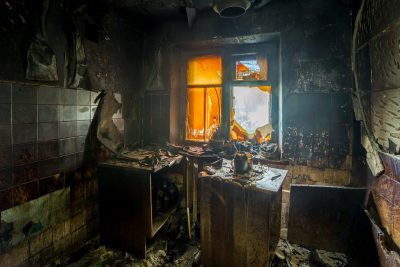 Rebuilding your home after it's been damaged by a fire can sometimes be both traumatic and therapeutic. It's hard to sift through the items in your house that are nothing but ash, especially if they're irreplaceable. But it's also an opportunity to start completely fresh with a clean slate.
Sadly, it's not always possible to start the cleaning and renovation project immediately. You'll need to assess the fire damage and take note of many important aspects of your property. You're also going to need to make some decisions about what should get repaired and what needs to get replaced.
Knowing where to start is the key to restoring your house to its former glory. You might have a million thoughts going through your mind, but make sure you consider these things below before you start attempting to remodel your new home.
1. Conduct an Inspection of the Fire Damage
Once it's ok to do so, you should return to the property to assess the damage. Having a restoration professional with you during this time is recommended. They can assist you in determining the severity of the incident.
They also know what elements to look out for. For example, you'll both want to know if there is any hidden structure that you need to consider before you start rebuilding. This process will help give you an idea of how long it will take before moving back in.
2. Secure Your Property
If you have an insurance policy, it should cover your property and the items that were damaged by the fire. However, they will question you to ensure that you secured the house so that thieves or intruders could not enter while you're not residing there.
You should board any windows and doors with plywood. Don't forget to also cover your roof with some tarp so that it's protected from rain or snow. Just remember that any particles or chemicals won't get released while it's secured, so you should wear a mask when you open the place back up.
3. Contact Your Insurer
Your insurance agent is another professional who can help walk through each of the steps to get you back on your feet. They will offer advice on how to deal with any urgent water damage and assist you in securing the house.
Insurers will also work with you to create a list of everything that you lost in the fire. This process is not easy and may take some time before it's complete. But it's an important step in the process so that you know what it's included in your policy.
4. Remove Any Water
As soon as it's possible to do so, you should start to get rid of any puddles of water in your home. While the water was essential in putting out the fire, it will result in mold in your house if it's not seen too quickly.
You will also need to test any pipes in the house, as it's also possible for the fire to damage this. If the firefighters used other chemicals to extinguish the flames, you'll also need to also take care of them. You may not be able to start any restoration until these elements get addressed.
5. Get Rid of Any Soot or Smoke
Another element that will cause harm to the property is smoke and soot. When the house is clear of water and moisture, you should remove any soot and attempt to repair anything damaged by smoke. If you leave this unattended, it can seep into the walls and carpets causing long-term damage.
The three most common ways to manage smoke damage is through HVAC system cleaning, deodorization, or ozone smoke removal. Your restoration professional is the best person to ask what approach you should take. They can also offer advice on the safest methods to ensure it doesn't cause any health problems.
6. Write a Loss List
Walking through each room to identify what's salvageable and what's not is a difficult task, but you will need to do it. While creating the list, it's important to remember everything that was in the room. Some of the questions that should jog your memory are:
What was in the corners of the room?
Did you keep anything in the desk or drawers?
Was there anything on the walls?
What furniture was in the room?
What electronics were kept in the room?
Were any important documents stored here?
This task is traumatic for some. If you become overwhelmed while attempting to create this list, you should take a break and return to it later. However, you can't avoid it as your insurer will need it for your claim.
7. Replace Any Important Documents
Depending on the severity of the fire, some or all of your essential documents may get destroyed. Once you've finished your loss list and identified the important items to replace, you should start the process of replacing them as it may take some time before you receive them. Some of the items you should replace include:
Driver's license
Banking documents
Car registration
Births, deaths, or marriage certificates
Social security
Mortgage papers
Passport or citizenship documents
Wills
Medical records
You may need some of these documents for insurance purposes. If you're staying elsewhere, request your mail or replacement items to get sent to your temporary location.
You Don't Have to Do This Yourself
A restoration service can take care of a lot of these steps themselves. They can send response teams to assess the severity of the fire damage, pump water out of the proper, and provide you with an estimate of what it will take to restore the home.
If you need assistance in getting this process, contact our team today. We have over 25 years of restoration experience and offer a stress-free insurance claims process. We're here to work with you to get you back to your house as soon as possible.