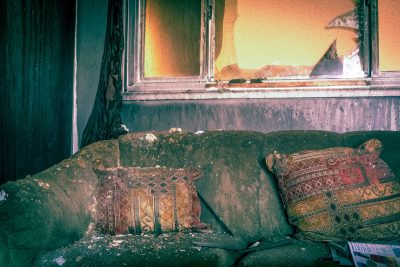 Do you know more than 350000 home fires were reported in the US in 2020? Each 93 seconds, a household fire was reported, a home fire death was reported every three hours and ten minutes, and a home fire injury happened every 43 minutes.
With these terrifying statistics in mind, fires are unfortunately a very probable incidence in this country.
Watching your property burn down is an emotionally wrenching experience. It's even more traumatizing when fire accidents result in fatalities or injuries. Despite the tribulations, you need fire damage restoration to prevent more damage on the property.
Hesitation will lead to further damages, which only multiplies the cost of repair. A fire damage restoration service will help prevent mold forming or rainwater in your home.
These companies will do their magic to restore your home to its previous state. However, you might want to contact your insurance company first to assess the damage.
The fire restoration process is long and complicated. To help you understand, here is comprehensive information about fire damage restoration.
What Is Fire Restoration?
Fire damage restoration involves reinstating property damaged by smoke and fire to its original state. Depending on the fire size and the resulting damage, the restoration process could run for a few weeks to months.
Apart from cleaning, deodorization, debris removal, odor, and soot removal, fire restoration also involves property demolition, board-up, or even reconstruction. They also deal with water damage resulting after the fire is put off.
Now you know what a fire restoration is, right? So, what does it involve?
Fire Damage Restoration Process
Fire restoration can be a complicated and long process. However, here are the key steps taken by a fire restoration company.
Damage Assessment
After the fire is extinguished, the fire restoration company will conduct its damage assessment. Their experts will examine the remaining structure to establish the extent of the damage. Here, the company can easily tell how long the restoration process can take.
They will carry out the necessary repairs to make their worksite safe and secure during the restoration. These include erecting a fence, boarding up, and even sealing off other parts to prevent more damage.
Removal of Contents
The company will assess the remaining contents to see if any could be salvaged. If the cost of restoring the partially damaged belongings is less than replacing them, they are removed from the structure.
Cleaning, sanitizing, and restoring these items are necessary to have them ready. Are you wondering where you will store the items before moving back? No worries about it; the restoration company can store them in their warehouse till the property is ready.
Water Extraction and Drying Out
It's evident; water damage is consequential to fire damage. The restoration company will remove and dry up any water. This step should happen as soon as possible to control further damage by water to the property.
After water removal, the experts will dry and dehumidify to prevent mold from forming.
Controlled Demolition
The irreparable sections of the property will be demolished without damaging other parts. These may include ceilings, flooring, and drywall. After demolition, these materials are removed from the worksite to allow for reconstruction.
Cleaning and Decontamination
Are you aware that soot is acidic to your property? This step will involve removing the soot and any other harmful by-products of the fire. Some contents in your home are harmful when burnt, but a professional will handle them safely.
If the sewage pipe burst, you don't want to do the cleaning without the necessary expertise, do you? A reputable restoration company has the right skills and equipment to clean and decontaminate such areas.
Reconstruction and Repairs
This is the last step in home restoration. However, it involves a tremendous amount of work to pull through. During this step, your home will take a new shape after the necessary repair and rebuild.
The restoration company handles rebuilding, but if subcontracting is necessary, they find a specialist.
Now you know the steps involved in fire restoration. If you need a fire damage restoration company, how do you find the right service provider?
How Do You Find the Best Fire Damage Restoration Company?
To enjoy the benefits of fire damage restoration, working with the right company is inevitable. However, with multiple companies offering these services, it's not easy to make the right decision. The key is to select a highly experienced and skilled company in the industry for a long time.
A well-established fire damage restoration company has handled many restorations already. Your case will be no different, and they will apply their in-depth knowledge. These companies know the best practices to complete the restoration process fast and effectively.
When picking a fire damage restoration company, check on their pricing. You don't have to break the bank due to fire damage restoration cost. Furthermore, you have already suffered a huge financial burden due to the fire damage.
Get multiple quotes, compare them and pick one that strikes a balance between quality of service and their service cost. Ensure to get value for the price you are paying.
Prior to making the final choice, check on their reputation. What are past clients saying about them, and what was their experience? Read reviews to check for consistent praise or criticism; this represents the company's work.
Hire a Fire Damage Restoration Company Today
A fire disaster on your property can be a devastating experience. However, the right fire damage restoration service is indispensable in the recovery process. The above information will help you to get started with the fire restoration process.
Are you looking for fire restoration services in Maryland, Virginia, Delaware, DC, or Pennsylvania? At Pro Services, we got you covered. With more than 25 years of experience, we are committed to helping customers reclaim their lives and homes after a fire disaster.
Contact us today for all your water and fire restoration needs.