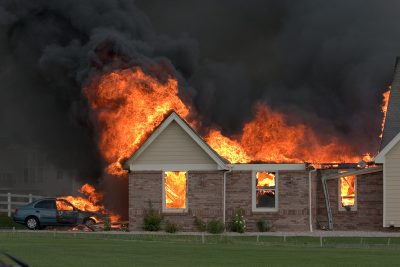 Of the top five dangers to your property, water damage takes the number one slot and fire comes in at number five. When you're facing the aftermath of water or fire damage, it's important that you act fast.
The quicker that you assess the damage and restore your property, the less residual damage you'll have on your hands. This is particularly important when you're involving your insurance company, which will want to see that you're serious about restoring your home.
The first step to water or fire damage restoration in the West Virginia region is finding the right company for the job. At ProServices, we pride ourselves in our thorough water damage restoration and fire damage restoration services.
What comes next? Read on to learn everything you need to know about the water and fire damage restoration process in the West Virginia region.
Step 1: Assessing the Damage
Water damage can weaken or destroy structural elements of your home. It can also leave behind mold and debris that is hazardous to your health. Similarly, fire damage often destroys portions of a property while leaving other portions covered in hazardous soot and smoke damage.
The first step in either restoration process is to assess the extent of the damage. Depending on your insurance policy, you may need to start with an assessment conducted by an insurance adjuster. Regardless, we will perform our own assessment to get a thorough understanding of what work must be done to restore your home.
Step 2: Securing the Structural Elements of Your Home
Once the assessment is complete, the next step is to secure the foundation and other structural elements. This is done before cleaning or repairing is tackled to ensure that no further damage occurs to the property before it is restored.
Securing the foundation often entails sealing or plugging any holes that are found in the roof, walls, or flooring. This prevents future water damage from occurring in the event of rain or external flooding.
In extreme cases, it may be necessary to replace or repair elements of the foundation, including the concrete slab and masonry units. A solid foundation is crucial in preventing costly damage, as a damaged foundation can cause the entire property to begin sagging.
Step 3: Cleaning and Removing Damaged Materials
Once the property is secured from further damage, it is time to start cleaning and removing damaged materials.
In the case of water damage, this phase involves drying all water-affected areas that can be salvaged and the removal of water-affected components that cannot be salvaged. To dry out the home, we use a variety of industrial fans, dehumidifiers, and tarps that will prevent possible mold spores from spreading to undamaged areas. Elements that are most often removed are those that have already begun to grow mold or are warped beyond repair.
In the case of fire damage, this phase involves deep-cleaning all areas that have been affected by smoke and soot and removing components that have been effectively destroyed. Smoke and soot tend to penetrate more than just the surface layer of walls and flooring, which is why deep scrubbing, sanding, and refinishing are necessary for this process. Any upholstery that is cheaper to replace than to repair will typically be removed from the property.
Step 4: Repairing Damaged Structures
One of the biggest steps of the restoration process after water or fire damage occurs is repairing affected areas. During the assessment and cleaning process, we determine what the most cost-effective methods are in order to make these repairs. This boils down to deciding what is cheaper to repair and what is cheaper to replace.
An example of this is finished versus unfinished wood. Oftentimes, finished wood is easier to repair after fire damage. The finish on the wood likely provided a buffer that protected the wood, itself, which means that we can sand down the finish, clean the wood, and refinish it. Unfinished wood, on the other hand, is often easier and cheaper to replace than it is to repair.
Other areas that may need to be repaired include:
Drywall
Flooring
Drapery, upholstery, and carpeting
Ductwork
Components of HVAC systems
The amount of time this phase will take depends entirely on the extent of the water or fire damage in question.
Step 5: Renovating What Cannot Be Repaired
An additional service we provide that may be worth considering is remodeling and construction. When a property was severely damaged by water or fire, we often recommend using these services. In severe cases, it can be more cost-effective to remodel the affected areas of your property, rather than trying to restore what was once there.
When it comes to renovations, you get to decide if you want your West Virginia home to look the way it once did or if you want to come up with something else entirely. In fact, some homeowners find that a new remodel is a great way to overcome the tragedy of loss caused by water or fire damage.
Need Restoration Services In the West Virginia Region? Give Us a Call
Dealing with water or fire damage in your home is never an easy process. Going through the cleaning and repairing process can be overwhelming, and it is not recommended that you go the DIY route when dealing with serious damage. If you need water or fire damage restoration in the West Virginia region, ProServices is here to help.
To find out more about our services, availability, or pricing, contact us today. Because water and fire damage is serious business, our professionals are on the clock 24/7. Let us help you get back to normal as quickly as possible.