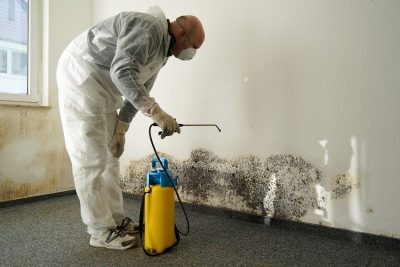 Fairfax and other northern Virginia counties are in the midst of the rainiest season, which lasts until the end of August. When rainfall is on the rise, we tend to start thinking about interior water damage more often–even though we all know water damage doesn't always start with outdoor flooding.
If you're facing water damage in your northern Virginia home, what options do you have for damage restoration? What steps should you take to minimize damage while flooding is still occurring? What steps should you take to tackle water clean up?
Read on to learn everything you need to know about dealing with water damage in northern Virginia.
Step 1: Identify the Source
Some water damage happens fast, as is the case with flooding caused by rainfall or a burst pipe. Other water damage accumulates slowly and may take some time to become noticeable. No matter how severe or sudden your interior water damage is, it's important to identify the source.
In extreme cases, you may not have time to identify the source or follow our second step, which is securing your home. If your home has become dangerous, leave the area as quickly as possible.
Step 2: Secure Your Home As Much As Possible
Once you know where the water is coming from, there are steps you may be able to take to minimize further damage. Remember, only pursue these precautions if it is safe to do so. If flooding is happening swiftly or there is an immediate threat of electrical problems, the best thing for you to do is clear the area.
Block Off Exposed Areas If Rainfall Is Causing Flooding
If the water damage is coming from an external source like rainfall or melting snow, block off entry points where water is coming into your home. Vinyl tarps are best suited for this particular step.
Common entry points include damaged roofing, damaged siding, and unsecured doors or windows.
Turn Off Water Supply
If the water is coming from your plumbing, whether you're dealing with an overflowing toilet or a burst pipe, shut off the water supply to stop any further flooding. To do so, you will need to locate the main water supply shut off valve.
This valve is usually located near the water main's entry point into the home. This is often on the front wall, in a mechanical room, near the water heater, or just inside the crawl space. Turn the valve all the way to the right until it no longer moves in order to cut off the water supply to your home.
Shut Off Home Power If Necessary
If you are concerned about water levels rising to the height of electrical sockets and other sources of power, you may want to shut off your home's electrical supply. To do so, you will need to locate the main circuit breaker.
In modern homes, the main circuit breaker is often found in or near the breaker box. In older homes, the main circuit breaker is usually housed in a different area, often contained in a red box.
Remember, cutting off the power supply is going to make things dark. Bring a flashlight if you have to complete this step.
If Safe, Secure Valuables
Water damage, even severe water damage, isn't always dangerous for the inhabitants of a house. If the damage is threatening to reach your valuables but not threatening your safety, you may take the time to secure your valuables.
Step 3: Contact Your Insurance Company
Not all water damage is covered by standard homeowners insurance plans. In fact, flooding caused by natural disasters often requires its own separate insurance policy. Some potential residual damage like mold is often not covered by homeowners insurance, either.
That being said, if the damage is severe and costly to repair, it is still worth your while to contact your insurance company. Find out if the damage is covered and how it will impact things like your monthly premium before filing a claim.
Step 4: Contact Pro Services For Water Damage Restoration
In the aftermath of a disaster, you're going to have a lot on your plate. Trying to tackle water damage restoration on your own isn't ideal for a number of reasons. The biggest reason is that water damage restoration requires professional tools and may require reconstruction, both of which cannot be replaced with DIY methods.
Contact Pro Services to handle all of your water damage restoration needs. We'll help you dry out, clean out, and rebuild your home. We'll also inspect for and remediate resulting mold issues, dehumidify your home, and remove odors and stains caused by water damage.
Step 5: Eliminate Potential Risks For Future Water Damage
Much of what we do at Pro Services will take care of any potential risks that could lead to future water damage. It is important that you address issues such as faulty plumbing or damaged roofing after dealing with water damage. Without addressing these issues after becoming aware of them, your insurance company is unlikely to cover future damage if it does occur.
Pro Services Is Here to Help With Damage, Remediation, and More
It is not uncommon for northern Virginia homeowners to find themselves in the midst of a flooding-related disaster. Whether the source is extreme weather, busted pipes, or misbehaving appliances, you're going to face some serious water damage. That's why Pro Services is here to help tackle water damage, mold remediation, and more in northern Virginia and the DMV.
To get you started, we offer a free evaluation and quote before scheduling any appointments. That way, you can make the best choice for your budget and your specific circumstances. Contact us and we'll get the ball rolling!