Dehumidifying Services in Washington DC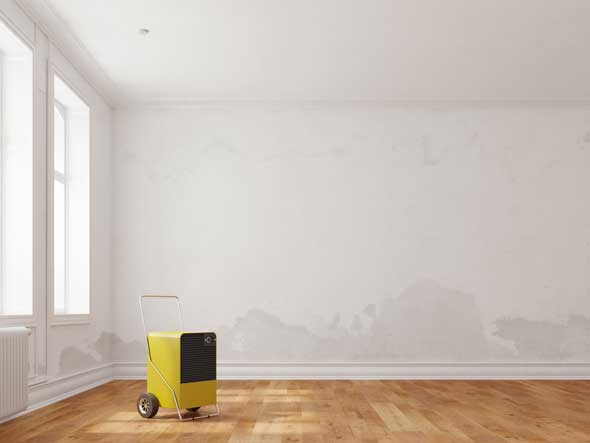 Having your home or business damaged by a storm or flood is bad enough, but dealing with the aftermath makes a nightmare situation even worse. There may still be the aftereffects of a disaster long after the initial event has been and gone. Once moisture gets into walls, ceilings and floors, it needs to be dealt with quickly so that it doesn't lead to complications like rotting timbers, mold and mildew growth.
Humidity can be just as detrimental. When humidity is too high within your home or business, moist air gathers in the corners, basements and areas that don't have good airflow. Condensation accumulates on windows. All of these situations will ruin your property's integrity and appearance, get into your furniture and cause the material to rot and mildew.
Humidity needs to be dealt a swift blow and the cause addressed without delay. Pro Services has the professional and experienced team you need, with 25 years of dehumidifying services experience in the Washington DC area, to have a clean and healthy environment again.
Contact Pro Services, LLC
Schedule a free estimate regarding dehumidifying services for your home or commercial property. Call Pro Services LLC at
877-233-4793
or contact us online.
Protecting Your Property From Mold
When water enters your home, it gets into every corner and void. It saturates porous building materials which retain the water, causing them to swell, warp, eventually rot and become a breeding ground for mold. Sometimes this can grow a more toxic form of mold, commonly referred to as black mold. In order to protect your home from the long-term effects of excess moisture, Pro Services utilizes specialized equipment to remove water in your home or business.
Using industrial air movers and dehumidifiers our team will eliminate excess moisture from wet surfaces and difficult to reach areas like internal walls and beneath floorboards and tiles. They will monitor the progress with moisture meters to ensure your home is restored to its original condition. This is a crucial step to making sure your family or employees are safe from a permanently damaged building and unhealthy environment.
Professional Dehumidifying Services
Damage from water can affect your home for years after it occurs, leaving moisture in places that can't be seen. Underneath your flooring, inside your wallpaper, even within your furniture. You may think that drying out your home or business can be as simple as turning on a dehumidifier but do you really know where that water has gone and how it will affect potentially your biggest asset?
With water, time is of the essence. Handling the dehumidification process on your own can take days, days you don't have. It only takes 24 hours for mold to grow. Pro Services dehumidifying services has the equipment needed to remove excess moisture from your Washington, DC building in the time frame necessary, as well as lowering the general humidity. Don't put your family or employees at risk. Schedule a service today.
Fill Out a Form to Contact Pro Services!