Lead Abatement in Washington, DC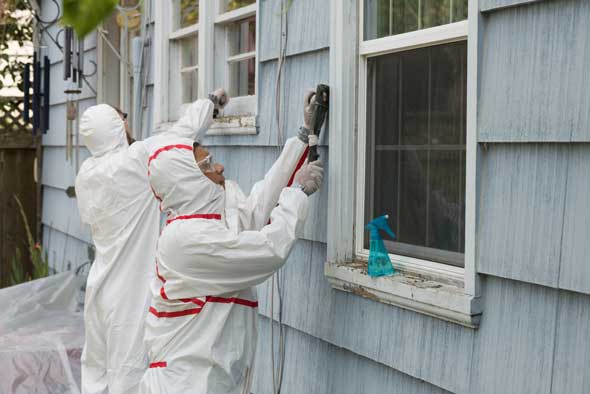 Estimated to be used in some form on over 80% of houses in the US prior to 1978, lead based paint is a dangerous health hazard. Professional lead abatement is vital as soon as you notice the lead paint begin to deteriorate. Once it starts to flake and turn to dust, it can enter the body and have serious health implications for you and your family.
Pro Services have over 25 years' experience in lead abatement in the Washington DC area. As a highly toxic heavy metal, special precautions have to be taken when removing it from any surface. Our highly trained staff has the expertise and equipment needed to make your home or commercial building a safe environment for your family or staff.
Contact Pro Services, LLC
Schedule a free estimate regarding lead abatement for your home or commercial property. Call Pro Services LLC at
877-233-4793
or contact us online.
Lead Testing
If you're concerned about your home or commercial building, Pro Services can complete a test to determine if the area contains lead. If found, we can provide you with a free estimate for lead removal for those surfaces.
As an EPA Lead-Safe Certified Firm, our team will safely remove the lead paint using the guidelines and standards set out by the EPA. After a evaluating the area, we will design a personalized plan that meets your needs. We use decontamination zones, negative pressurization and extraction equipment, providing an efficient and professional lead abatement to your property.
Licensed Professional's in Lead Removal
Normal renovation techniques like sanding and scraping lead based paint will cause lead dust and flakes to permeate the environment. For safe removal of lead based paint the services of a licensed professional is essential. Pro Services is a federally licensed EPA Lead-Safe Certified Firm, a Lead Abatement for Residential and Commercial Licensed Contractor for Maryland and a Lead Abatement Licensed Business for Washington DC.
Our team has the advanced training, skills and equipment necessary to carefully remove lead and limit the risk of exposure to you and your family or your employees.
Fill Out a Form to Contact Pro Services!