Fire Damage Restoration Services for MD, DE, PA, VA, West VA
Get fire damage restoration services in Maryland, Delaware, Pennsylvania, Northern VA, West Virginia, and DC. Residential and Commercial.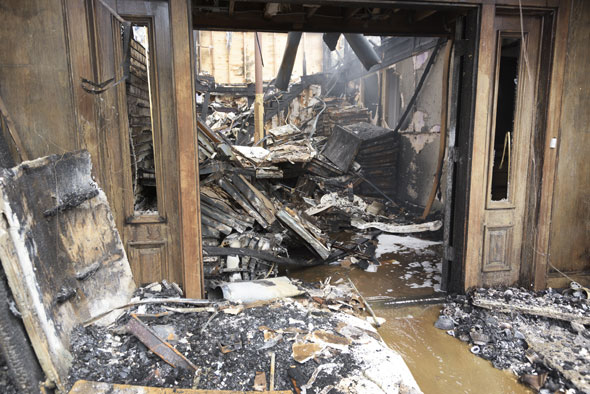 After the trauma of fire damage to your home or commercial building, the first steps to gaining back your property and working with your insurance company can be confusing.
By working with Pro Services, LLC, you'll have the support of full-service fire restoration, fire remediation, cleaning, and construction company. Our fire and water damage restoration team works with your insurance company to help you handle your claim.
Once our team removes all traces of ash, smoke, and soot from your residence, it's time to start repairing areas that suffered significant fire damage. Repair experts are ready to respond to your request for professional assistance. Our team has the experience and equipment needed to restore your home after any kind of fire. No matter its size.
Work with the area's best fire damage restoration contractor. We provide fire damage clean-up in Maryland, Northern Virginia, DC, West Virginia, Pennsylvania, and Delaware.
Contact Pro Services, LLC
Schedule an estimate regarding fire damage restoration for your home or commercial property. Call Pro Services LLC at
877-233-4793
or contact us online.
Our Fire Restoration Services
When you're in a devastating scenario involving a fire at your home or commercial property, Pro Services provides the following services:
Complete Structural Cleaning
Personal Content Pack-Out

Personal Content Inventory

Complete Contents/Personal Property Cleaning
Residential & Commercial Services

Residential
You're not on your own after a disaster. Knowing what to do may seem overwhelming but Pro Service's team of experts will help your return your home to pristine condition. We service all residences:
Single family homes
Townhouses
Condominiums
Duplexes
High-rise Units

Commercial
Getting back in business as quickly as possible is essential after a disaster. We provide property damage solutions for the following types of industries:
Hotels and resorts
Schools and colleges
Restaurants and retail stores
Apartments and multi-family housing
Office parks and multi-unit commercial space
Government and private office space
Fill Out a Form to Contact a Pro Services Representative TODAY
Certifications and Memberships
We Work With All Insurance Companies
When a fire destroys your home and impacts quality of life for you and your family, it's important to work with a company that understands your situation and will walk you through things like insurance claims and finding the right solutions to fit your budget. Pro Services takes pride in supplying superior customer support during such devastating times and will work with your insurance company to restore your home and your life.
Like most homeowners, you're likely familiar with the dangers that fire presents to the average family. Whether it's started by an unattended candle, an electrical fault or a sudden bolt of lightning, fire destroys thousands of homes every day, causing millions of dollars in damage. Regardless of how the fire occurred, however, it helps to know you have affordable options when it's time to rebuild.
Once our team removes all traces of ash, smoke, and soot in your residence, it's time to start repairing areas that suffered significant fire damage. Repair experts are ready to respond to your request for professional assistance. Pro Services has 25 years experience in smoke, soot and fire restoration in the Washington DC area. We have the specialized equipment needed to restore your home after any kind of fire, no matter its size. Turn to us when you need new walls, wood, plaster, flooring, and other components.
Rebuilding your life after a fire partially or completely destroys your home is a long process. After several months of hard work, all the visually apparent damage is gone; however, one stubborn reminder of the accident lingers on, affecting your family's health and comfort. You may notice a strong, musty odor emanating from your furniture, curtains, and even the walls inside your house.
Most people know that smoke smells bad, especially the kind of smoke released when a fire burns particular substances and materials. The smells of burning plastic, fabric, and paint are potent — no one wants to breathe in these stubborn odors. Smoke consists of many small particles of wood tar, harmful gases, and sometimes even heavy metals. These contaminants end up not only in your walls, ceilings, and floors, but in your furniture, as well. Our professionally trained smoke damage clean up technicians will seek out and get rid of the musty smell smoke leaves behind.
Soot is residue left behind by smoke, and it can appear anywhere in your home after a fire occurs. From ceilings and walls to carpets and other kinds of flooring, soot can affect many permanent fixtures in your home.
Most home owners don't possess the equipment or experience needed to safely and thoroughly remove signs of soot damage from their homes. However, you don't have to live with the ugly reminders of a fire. Because soot is so persistent, investing professional services is well worth your time. Don't waste your energy on generic solutions that don't work. Our team uses the latest restoration techniques to remove the unattractive stains caused by soot, once and for all.
Fires almost always cause serious damage to homes—however, so does the water used to extinguish them. Water damage inadvertently caused by firefighters trying to save your residence can soak into your walls, roof, and flooring; eventually, mildew might begin to grow, and your home's structure could also be compromised. If a fire was recently extinguished in your home, it's well worth your time to have our fire damage restoration specialists look into any water damage that may be present, as well.
Most fire damage is visually apparent. However, many fires also leave behind the telltale odors of soot, which can cause allergic reactions and other breathing issues in your loved ones. Soot and smoke damage are real issues that affect many local families after surviving a fire. Breathing in fine smoke particles is hazardous to your health, and deodorization is almost always necessary.
Invest in the assistance of professionals that understand the importance of clean walls, ceilings, floors, and air. For help with fire damage that isn't visible to the naked eye, local families turn to our professional smoke removal team. As members of the Indoor Air Quality Association, our team understands the importance of maintaining clean air in your home.
Pro Services knows that during a fire, smoke can permeate walls and other surfaces and drift through household air ducts, where it becomes trapped. If not professionally removed, smoke odor can reoccur. Soot is oily and easily stains carpets, draperies and other household textiles. For this reason, you must remove it before you attempt to clean or deodorize items.
Even after cleaning, smoke odor may remain in clothing, upholstered furniture, carpets and draperies unless they are properly deodorized before cleaning. Fire, smoke, and soot can cause corrosive etching within 72 hours. Formica, chrome, porcelain and aluminum fixtures should be promptly cleaned. Pro Services is here to help you take care of these jobs properly.
If you're unsure what kind of fire damage repair or restoration services your home needs most, don't hesitate to request a free estimate. As contractors with more than two decades of fire restoration experience, we're proud to offer families like yours great deals on all the services you need to recover your home's value and your loved ones' safety. Let us deliver the peace of mind and comfort you deserve after dealing with a devastating fire.