Biohazard Cleanup in Washington, DC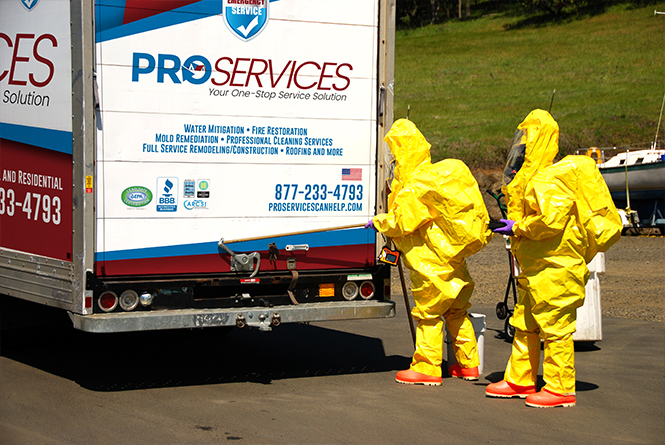 When a death or accident occurs in the home or workplace, cleaning and sanitizing the area requires the services of biohazard cleanup professionals. Biohazards have to be taken seriously and special precautions are put in place for the health and safety of everyone involved. Blood and waste can contain diseases that can spread through contact. In addition, biohazards can get under flooring and into spaces that a surface cleaning won't touch. Once embedded into these areas, they risk contaminating an entire home or building and can lead to illness for those exposed over an extended period.
Traumatic events are an experience no one wants to deal with. Totally unexpected, they are distressing for those involved. Pro Services will help you through these trying times with compassion, dignity and respect. We follow strict guidelines and protocols to sanitize biohazard cleanup situations and help guide you through the process of restoring your home or business. Our goal is to help you and your family or your business back on the road to recovery.
Contact Pro Services, LLC
Schedule a free estimate regarding biohazard cleanup for your home or commercial property. Call Pro Services LLC at
877-233-4793
or contact us online.
Cleaning Biohazardous Waste Safely & Legally
It's essential that you don't try to clean up the area yourself; it's not worth the risk or the emotional grief. You could also spread the biohazardous waste, further damaging the property. There are regulations imposed on the disposal of materials that have been in contact with biohazards. Pro Services will clean and sanitize the area thoroughly, safely handle and legally dispose of the biohazardous materials and ensure that your home or business is returned to its original condition.
Family members or employers who have to deal with the death or traumatic injury involving a loved one or employee due to suicide, homicide or accident, can turn to Pro Services for professional help. Our team has the training and empathy to support you with utmost discretion and sensitivity.
Let Pro Services Do the Hard Work for You
Pro Services is a member of IICRC (The Institute of Inspection, Cleaning and Restoration Certification). As a member, the Pro Services team fully complies with the guidelines for Trauma and Crime Scene Biological and Infectious Hazard Clean Up. With 25 years of biohazard cleanup experience in the Washington, DC area, we have the experienced team you need. For state accreditations, licenses and memberships, please view our about page.
No situation is too unusual for our biohazard cleanup crew. As a company with more than 25 years of restoration and cleanup experience, we're familiar with the contamination risks associated with all kinds of situations. We are knowledgeable and skilled at assessing many scenarios for possible contamination and effective sanitation. We work with many insurance companies and are committed to helping you and your family. Trust us to handle your situation with the care and respect it deserves, no matter the circumstances.
Fill Out a Form to Contact Pro Services!