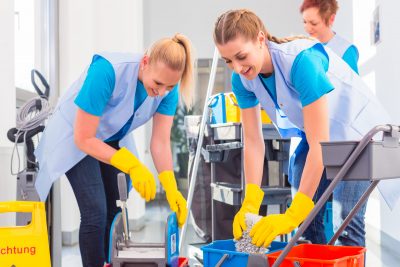 Investing in a safe and healthy working environment for your employees will save you both time and money in the longterm. According to researchers from the University of Arizona, the average desk has 400 times more bacteria than a toilet seat. Consider this fact if you're not having your office space regularly cleaned!  You need to remember that finding the best commercial cleaning service for your company is more of a partnership than a transaction.
This is because you want a cleaning company to do good work for you in the longterm.
Read on to learn the top eight factors you need to consider before hiring a commercial cleaning service!
1. Services
When you're looking for the best cleaning service, you want to make sure that they offer a wide variety of services. Although it may seem more affordable to go with a company that specializes in one area, you'll end up wasting time in the longterm needing to find and vet new companies with each additional service you need.
Look for companies that offer standard cleaning services as well as:
Fixing water damage
Experience with mold
Remodeling and construction
Fixing fire damage
By finding a company that can service your immediate needs as well as your future ones, you're ensuring that you're partnering with a long lasting company.
2. References and Reviews
You also want to make sure that the cleaning company you consider has an ample amount of references and reviews. These can often be found on the company's website, and you can also typically find them if you Google their name.
Make sure that the reviews on their website contain the person's name, where they're from, and where they initially wrote the review. This helps eliminate the chance of fraud. Pay attention to the specific details that reviewers mention.
A few negative reviews can be common, especially if the company is nationwide or has hundreds or thousands of reviews. Instead of focusing on the negative, pay attention to the way the company responds to those reviews and ensure their response remains polite and professional. Did they try to resolve the customer's issue?
Red flags come if you can't find any references and reviews for the company, which can be an indication that they're inexperienced. If you see that the majority of the reviews are negative with no response from the company, this is a good sign to look elsewhere.
3. People Skills
Even though a company may be experienced, it's important that they have good people skills as well. This starts from the first point of contact through your initial phone call or email to when employees arrive at your company site.
It's important that the cleaning company you hire is easy to work with. Did the customer service representatives seem unfriendly, unprofessional, or unwilling to answer your questions? Do their employees present themselves well with uniforms and a professional demeanor?
If any of these points of contact seemed uncomfortable or unprofessional, it's unlikely that it will change if you continue to hire them!
4. Experience
The experience of a company is based on how long they've been doing business as well as how well they train their employees. Even if a company has been open for more than 30 years, if they're not training their employees well customers won't be able to benefit.
You can typically research a company's background easily through the about section on their website as well as looking up their Better Business Bureau profile. On their website, it should also be easy to find information on how they train their employees. If you can't find that information, it's worth a quick email to ask.
5. Certifications
It's important to make sure that the cleaning company you choose has the proper license and insurance. You want to ensure you're not wasting your money on an inexperienced company that doesn't take their work seriously.
You also want to make sure that they have certifications such as:
BBB accreditation
IICRC certification
IAQA (Indoor Air Quality Association) membership
You also want to ensure that the company is fully insured to protect everyone's safety. These licenses and accreditations can also be found on the company's websites.
6. Availability
Even if you've found a company that has great experience, certifications, and reviews, you want to make sure that they're available for you when you need them. In your initial call or email, make sure you ask them about what their availability is from day to day.
Ask them about how they normally schedule regular cleanings and whether they have emergency same-day services available. If you need a cleaner outside of their regular business hours, ask them if that's a service they're able to accommodate.
7. Accountability
Last but not least, you want to make sure that the cleaning company you choose is able to provide some form of accountability for their cleaning services.
For instance, are they able to set standards and expectations for each level of service they provide? Is there a formal way you can request additional cleaning if you feel as if they did a subpar job, or would you need to pay extra?
Finding the Best Commercial Cleaning Service
Finding the best commercial cleaning service for your business is all about taking the time to check out the cleaner's website and ask questions. You want to make sure they're able to provide services that can meet both your short term and longterm needs.
It's also important that they're licensed, accredited, and can interact with you in a professional and friendly way at all times. Lastly, you want to be sure you ask the company you're considering their availability so that you're not choosing a company that's experienced but not able to meet your needs.
Ready to hire a commercial cleaning service that can go above and beyond for you? Contact us today to get started!